Unlock Value with PatchPro® DCIM SaaS
One Single Platform for all Data
JAYCOR in partnership with Belden has developed a DCIM SaaS (software as a service) solution, fit for the purpose for South African enterprises, their facilities, networks and data centers.
Our solution incorporates the well-established and highly-regarded PatchPro® DCIM software, combined with international and local expertise, experience and resources to deliver and execute a DCIM SaaS through a 24/7 managed service.
PatchPro Web
Real-time Online Access to Hosted Infrastructure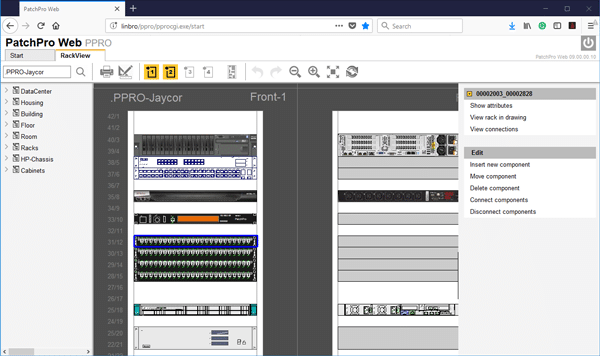 PatchPro® Web application provides a collocation data centre's clients access to their hosted infrastructure, online through a user-friendly web interface. An amazing tool for empowering DC customers to access and view their network infrastructure, servers and other devices. View free ports and rack units, create patch or cross-connects between devices and send work orders directly to the NOC.
The results:
Provide Visibility
Improve Efficiency
Empower Customers
Web Features
Front (and back) and rear (and back) views provide full visibility of all hosted infrastructure within the rack.
– user level access restricts collocations customers from accessing and viewing other customers infrastructure.
Side rack view provides visibility in ensuring no conflicting space requirements apply when adding additional hardware components.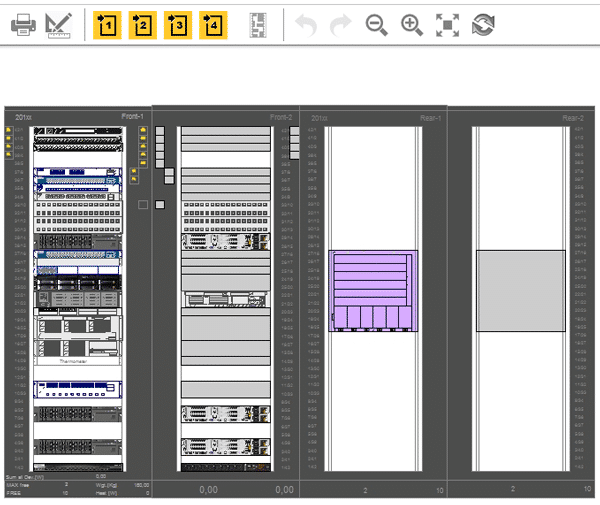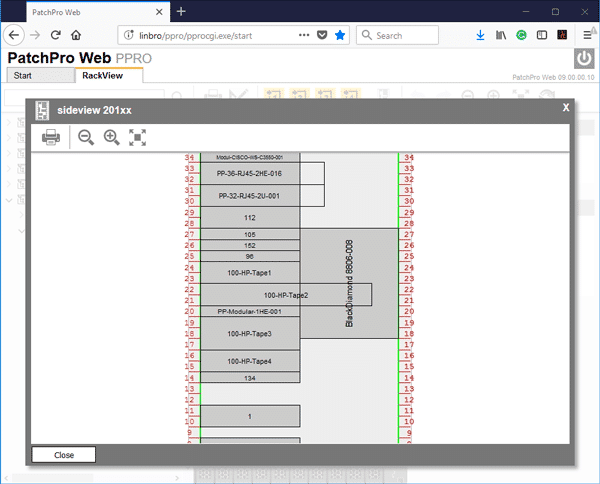 Visualize connections in granular detail:
– Connected/open ports (front and back) visually
– All connected devices
– Export to Excel/Visio
Customers manage their infrastructure and connectivity
– Components (Servers, switches, SFP's)
– Create Connections (Patches & Cross-Connects)

Access unique attributes for all connected devices

How PatchPro® Works
The key point is the Database
The Database sends all information/changes to the graphical user interface (GUI) through CADVANCE and or AutoCAD
The advantage of PatchPro is that you can manipulate the database by using the GUI which is quicker and easier
The Database and the GUI are connected. Objects changed on the system update in real-time
Key attributes of PatchPro® Software Solutions
Comprehensive technical functionality – both in the Facilities as well as in Data Centres.
Graphical User Interface's (GUI) display:
Entire Facility & Multiple Site
Data Centre/s
Rack View/s
Open System (API) and database architecture
PatchPro® F - Facility Manager
A Genius Tool for Effective Facilities Management – PatchPro®
PatchPro® F – iPLM Infrastructure Physical Layer Management
Design, Build & Manage your Enterprise and Data Centre in Granular Detail
iPLM View
The iPLM View enables the user to access and visualize all objects, their attributes and cost centre's within the entire facility:
All infrastructure (shown per floor)

Power distribution

DB Boards
Cabling, routes, and ducts

Ventilation ducts and CRAC Units
Cost Centre and PUE (real-time)
All other assets – offices/free space, PC's, furniture
All network infrastructure and connectivity

Cabling, patch cords, wall-jacks, cable routes, and ducts
All connections from start-device through the network (point-to-point) to end-device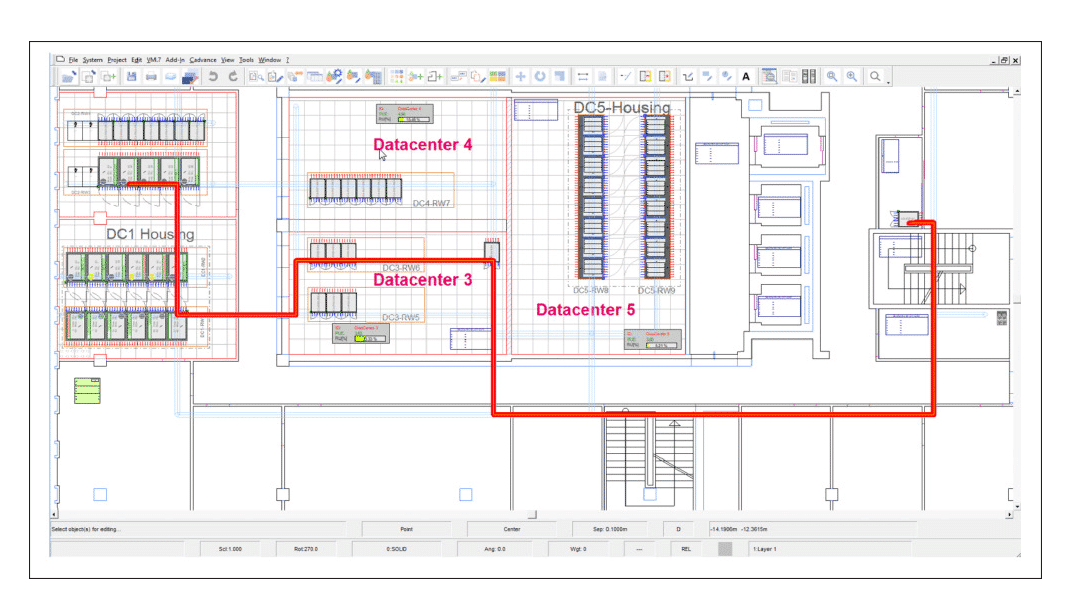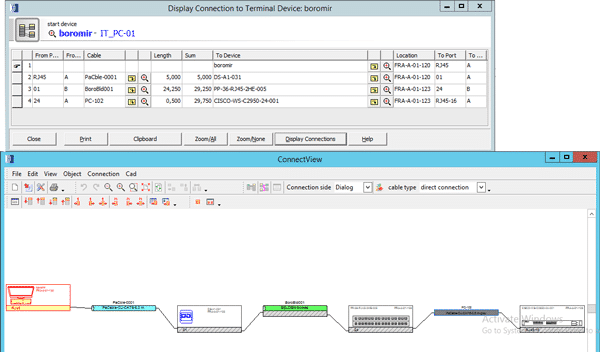 Cabinet/rack – real-time visualization of:

Dimensions (e.g. 800x1000x2000 42RU)
Free Rack Units
Sum of and Max BTU's
Actual and Max Wattage
customize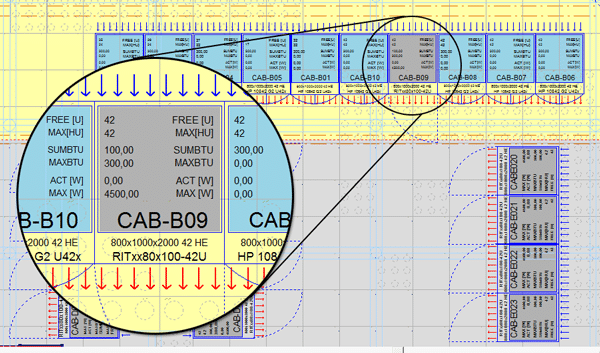 Search (keywords) the object manager in granular detail for any criteria/objects within the entire facility
Quickly and easily navigate/zoom to the asset, view its connections and attributes
DC Managers create real-time design changes in planning mode and deploy work orders for execution.
SPM Web - Service Plan Manager
Track and Manage All Assets within Your Enterprise
Asset tracking
Planned preventative maintenance
PatchPro® I - Infrastructure Connection Manager
DCIM – Data Center Infrastructure Management
Patchpro® I – Infrastructure Connection Manager
Administer your facilities assets and power usage effectiveness, coupled with unprecedented visualization and access to your network architecture, connectivity, and components:
Visualize and access racks, inventory and free rack units

Front and rear, back and rear and side views
Visualize and work on multiple rows, racks, and pods
Add/subtract components – drag and drop servers, switches, PDU's, SFP's Patch panels and more from your component library
New components are saved to the database in real-time with the objects unique set of attributes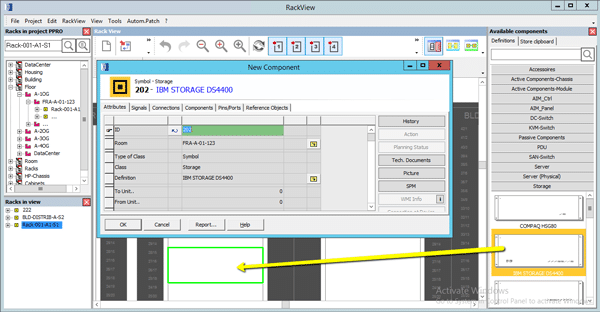 Visualize and connect/disconnect free and used ports on devices and patch panels
Green – free port
Red – connected port
Visualize Connections (GUI visually maps connections)

Patches between devices within the rack
Cross-connects between devices and cabinets
Front and Rear Connections

'View Connections' quickly visually maps connections
(Side A, B or A/B)
Mouse-hover over free ports to view its connection and the patch objects unique attributes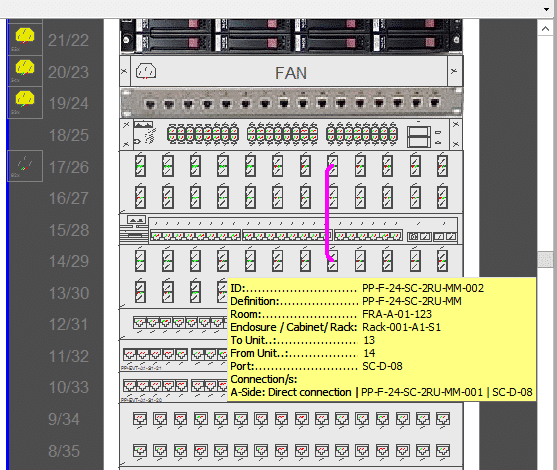 Select multiple objects and click ConnectView to map the selections connections
Easily export to Microsoft Visio or Excel
End-to-end connectivity literally 'down to the wire'

ConnectView maps any object's (PC, Server, Switch, cable, port etc.) path from start-to-finish in unprecedented detail

Create and visualize patches and cross-connects by clicking on and connecting free ports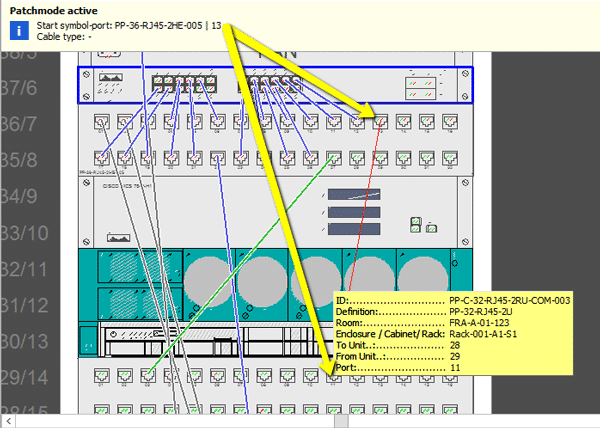 MultiPatch allows users to create multiple patches between objects, manually or through a .csv (bulk) upload
Individual racks indicate
Total:

Energy consumption (W)
PDU's connect via SNMP
Weight
Free rack units
RackView Object Search
Search all rack assets using any criteria within the entire facility

View the full tree of connectivity from the building down to the device
Quickly navigate to the object in RackView by right click or drag & drop into the window
RackView – planning mode

Design and build your DC and assign work orders to technicians, execute changes once confirmed
Colour indicators on the sides of objects within the rack indicate planned work and the present status
 
Dashboards & Management Reports
Dashboards & Management Reports
DC Space – Used/Free
Rack Units – Used/Free/Reserved
Weight
Total Electric Input
Heat Output
PUE (Power Usage Effectiveness)
Projects (sites)
Objects
Racks per user
Allocated RU per user
Wattage per user
Custom
Turnkey Solution
Staff Services – Prepare, Deploy, Administer
Once the scope of work is defined for your application and requirements, the service level agreement (SLA) is negotiated in conjunction with a due diligence exercise before the projects begin. Once all parties agree on the desired outcomes, the system is set up and the administrative team established to roll-out the solution. Site data migration begins, connectivity and any ad-hoc development are implemented.
Annual service audits are conducted by Belden to ensure all systems and services meet the OEM standards and best-practices.
Admin Team Example
Program manager
Project manager
Program Administrator
Specialist Engineer MCSE
Senior Engineer CCNP
CAD and AutoCAD Developer
SQL DBA
Managed Services
Dedicated PatchPro® administrative and project management team is established to service your requirements.
Data migration/creation infrastructure into PatchPro
24/7 management and support of the DCIM system
L1, L2 & L3 Support desk
DCIM Reporting
AIM – Automated Infrastructure Management
Real-time Network Security and Transparency with PatchPro® Intelligent Patching
Belden PatchPro® offers a complete intelligent ready physical layer management system that uses RFID (radio frequency identification)
technology for wireless identification of individual patch cords and real-time monitoring of unintended physical changes in network infrastructure.
Smart patch cords are equipped with an RFID chip containing idiosyncratic identification information (name, standard, manufacturer, etc.), which is recognized by the panel and automatically fed into the software for seamless real-time database documentation. The RFID technology does not alter data center density or affect patch cord flexibility or reliability.Network infrastructure changes are automatically detected and transmitted to the software platform, facilitating immediate action. Network managers also receive email and/or text alerts about unwanted changes.At the rack level, unwanted changes are signaled in three ways:-By a red light on top of the rack-As clear text in the Belden PatchPro® Network Manager display-With LED signaling at the patch-panel level.
PatchPro Web
The PatchPro web  portal provides network administrators and also enterprise customers easy access to their hosted infrastructure within the DC. Empowering staff and enterprise customers to view capacity, add/subtract components, create patch and cross-connect work orders from any web enable or smart device.
Colocation enterprise customers can view:
Hosted infrastructure through web-platform
Free and available RU and ports
Connection, Patches and cross-connects
Colocation enterprise customers can create:
Add/remove new hardware components
Patches and cross connect work-orders
To learn more, request a demo/presentation in person or by remote webinar, please contact:
Herman Pooe
Business Development Manager – Enterprise IT