Unlock Value with PatchPro® DCIM SaaS Solution
One Single Platform for all Data
JAYCOR in partnership with Belden has developed a DCIM SaaS (software as a service) solution, fit for the purpose for South African enterprises, their facilities, networks and data centers.
Our solution incorporates the well-established and highly-regarded PatchPro® DCIM software, combined with international and local expertise, experience and resources to deliver and execute a DCIM SaaS through a 24/7 managed service.
How PatchPro® Works – Overview and Concept
The key point is the Database
-The Database sends all information / changes to the raphical user interface (GUI) through CADVANCE and or AutoCAD
-The advantage of PatchPro is that you can manipulate the database by using the GUI which is quicker and easier
-The Database and the GUI are connected. Objects changed on the system update in real-time
Key attributes of PatchPro® Software Solutions:
-Comprehensive technical functionality – both in the Facilities as well as in Data Centres.
-Graphical User Interface's (GUI)  display:
  -Entire Facility & Multiple Sites
-Data Centre/s
  -Rack View/s
-Open System (API) and
Database architecture
PatchPro® F Facility-Manager
Genius tool for effective facility-management
PatchPro® I Infrastructure Connection- Manager
Data Centre planning & documentation! DCIM/AIM
Rack View: Data Centre Layout
A DC-Layout rack view of the data centre enables the user to visualise:
-Free Ports: Copper / FO per Racks / Rack Rows etc.
-Connections
-Search for any criteria for objects within the Database
View Cable Routes
A cable route view of the data centre enables the user to:
-Optimize cable routing
-Maximise tray utilization
-Find connections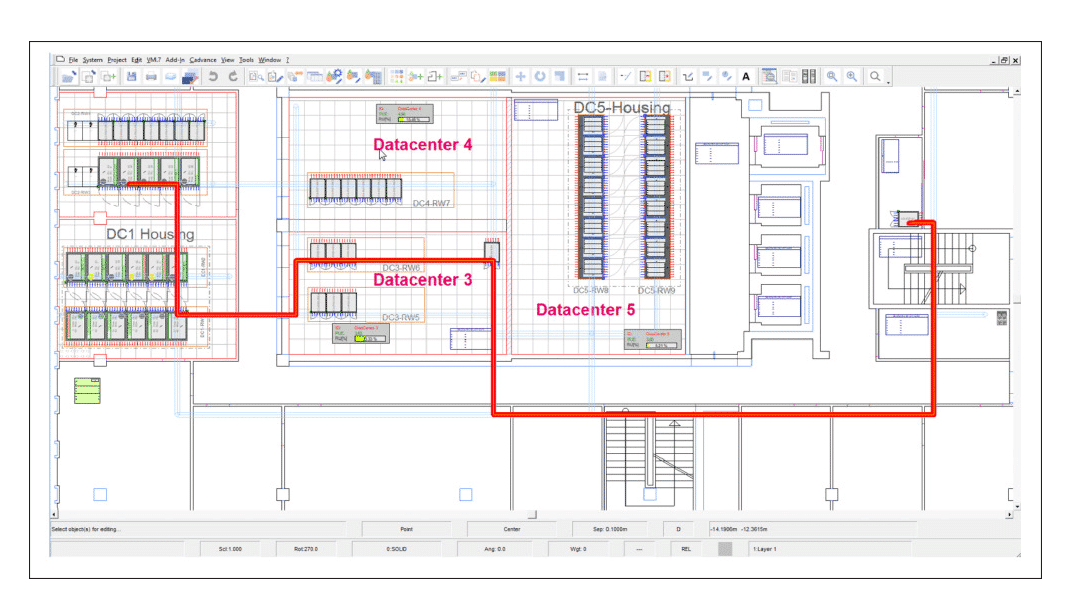 Visualize Racks & Inventory – PatchPro Rack Manager
-Visualize components and free rack units
-Add/subtract components – drag and drop servers, switches, PDU's, SFP's Patch panels and anything in the database library
-View free and used ports on devices and patch panels
-Create patches and cross-connects by clicking on free ports
-Export to Excel or Visio
Energy Utilization
-View total power consumption, heat/cooling requirements
Planning mode -Create changes in planning mode, assign work orders to technicians, execute changes once confirmed
Visualize Connections  GUI Visually Maps Connections
-Patches between devices within the Rack
-Cross-Connects between devices and cabinets
-Front and Rear Connections
Dashboards & Management Reports
-DC Space – Used/Free
-Rack Units – Used/Free/Reserved
-Weight
-Total Electric Input
-Heat Output
-PUE (Power Usage Effectiveness)
-Projects (sites)
-Objects
-Racks per user
-Allocated RU per user
-Wattage per user
-Custom
Turnkey Solution
Rollout and Implementation, Installation, Setup, Project Management, Reporting, Training and Handover
Staff Services – Prepare, Deploy, Administer
Once the scope of work is defined for your application and requirements, the service level agreement (SLA) is negotiated in conjunction with a due diligence exercise before the projects begins. Once all parties agree on the desired outcomes, the system is setup and the administrative team established to roll-out the solution. Site data migration begins, connectivity and any ad-hoc development is implemented.
Annual service audits are conducted by Belden to ensure all systems and services meet the OEM standards and best-practices.
Admin Team Example
1-2 Months QTY
Program manager
Project manager
Program Administrator
Specialist Engeneer MCSE
Senior Engeneer CCNP
CAD and AutoCAD Developer
SQL DBA
Managed Services
A Dedicated PatchPro® administrative and project management team is established to service your requirements.
-Data migration/creation infrastructure into PatchPro
-24/7 management and support of the DCIM system
-L1, L2 & L3 Support desk
-DCIM Reporting
AIM – Automated Infrastructure Management
Real-time Network Security and Transparency with PatchPro® Intelligent Patching
Belden PatchPro® offers a complete intelligent ready physical layer management system that uses RFID (radio frequency identification)
technology for wireless identification of individual patch cords and real-time monitoring of unintended physical changes in network infrastructure.
Smart patch cords are equipped with an RFID chip containing idiosyncratic identification information (name, standard, manufacturer, etc.), which is recognized by the panel and automatically fed into the software for seamless real-time database documentation. The RFID technology does not alter data center density or affect patch cord flexibility or reliability.Network infrastructure changes are automatically detected and transmitted to the software platform, facilitating immediate action. Network managers also receive email and/or text alerts about unwanted changes.At the rack level, unwanted changes are signaled in three ways:-By a red light on top of the rack-As clear text in the Belden PatchPro® Network Manager display-With LED signaling at the patch-panel level.
PatchPro Web
The PatchPro web  portal provides network administrators and also enterprise customers easy access to their hosted infrastructure within the DC. Empowering staff and enterprise customers to view capacity, add/subtract components, create patch and cross-connect work orders from any web enable or smart device.
Colocation enterprise customers can view:
-Hosted infrastructure through web-platform
-Free and available RU and ports
-Connection, Patches and cross-connects
Colocation enterprise customers can create:
-Add/remove new hardware components
-Patches and cross connect work-orders